I know, I know. GoDaddy are one of the biggest, most successful web hosts in the history of web hosts. What makes Luke more of an expert than the brightest minds in WordPress?
Well, nothing really. But after talking strategy with friends at GoDaddy (some of their top WordPress people), I can't shake the feeling that they're miscalculating their marketing strategy.
To explain, there's some groundwork to cover… here we go:
People spend a lot of time deciding where to buy.
Relationships
You're much more likely to buy when you already know the seller. Research by Adobe suggests that existing customers are 9⨉ more likely to convert than a first-timer!
For long-term WordPress hosting commitments, brand precedence is a major factor. That's why hosts are the leading sponsor of WordCamps – they need to get their logo in your brain.
In terms of engagement (and, of course, brand recognition), nobody captures the market as well as WordPress.com hosting. Automattic's strategy is unique in this space:
Free to start
Easy upgrade paths (domains, theme marketplace, etc.)
Account required to use Jetpack and WooCommerce
Sign-in with WordPress.com to your blog and comments
Use-case
Every marketing campaign has a target. When making a purchasing decision, you look for the market messaging that most closely identifies your use-case.
Use-cases for WordPress hosting are organised along an axis of scalability. Low-traffic hobbyist websites are the cheapest, while enterprise requirements are most the expensive.
| | | | |
| --- | --- | --- | --- |
| $ | $$ | $$$ | $$$$$$$$ |
| Hobby | Small Business | Agency | Enterprise |
We can classify which of these audience each WordPress host targets with some simple analysis of the copywriting used on their landing pages.
For example, GoDaddy's messaging is clearly targeted at the small business DIY website market:
Got stuff to sell? No problem.

The retail pitch.
Your hosting plan is set up with WordPress installed and ready.

Removing barriers for non-technical folks.
Our WordPress search engine optimization (SEO) plugin walks through your pages and automatically handles your basic SEO needs.

Just in case you didn't know what SEO stands for.
While WP Engine is targeted at agencies:
We offer the best WordPress hosting and developer experience on a proven, reliable architecture that delivers unparalleled speed, scalability, and security for your sites.

Notice how "sites" is plural?
We empower developers with the Genesis theme framework, dev/stage/prod environments on every site, Git and SFTP connections, automated backups, and WordPress core updates.

Definitely not for beginners.
If we look at all major hosts through this lens, we get a table that looks something like this¹:
Hobby / DIY
Agency
Enterprise
WordPress.com
GoDaddy
Dreamhost
Bluehost
WP Engine
Flywheel
Liquid Web
Siteground
WP.com VIP
Pantheon
DIY Cloud
Relationship + Use-case
Since we're thinking about WordPress hosts along two different axis, let's overlay them. Who doesn't love a good quad chart?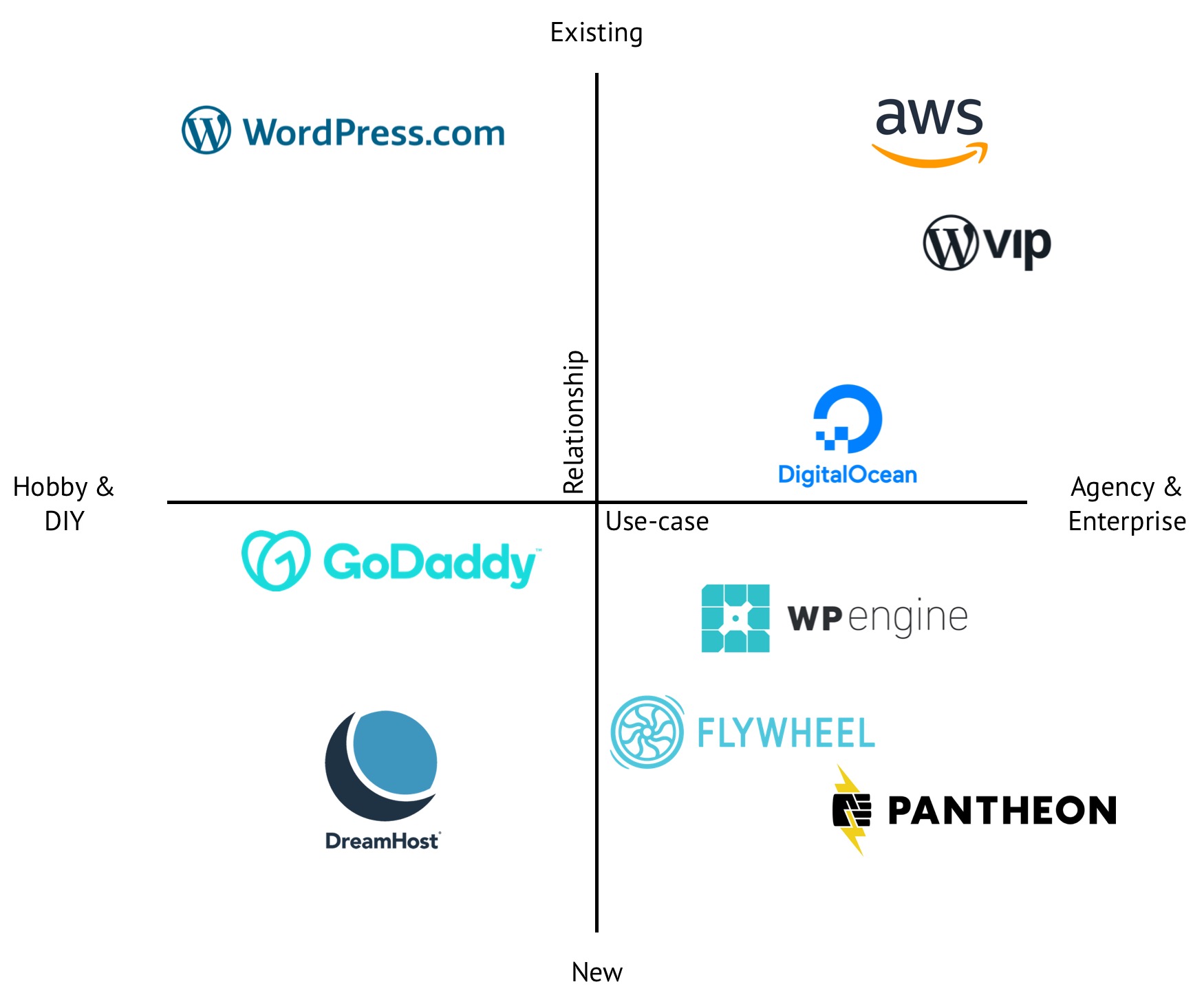 The goal is to move out of the bottom half, and establish ongoing relationships with your customers.
Ecosystem Strategy
In order to move on up, WP Engine and GoDaddy are building a product ecosystem. WP Engine owns Genesis, which moves them into the "existing relationship" quadrant for Genesis users. GoDaddy own CoBlocks – same deal.
Now that we've got this framework to work with, we come to the main point of this post…
GoDaddy's Gaffe
Problem #1: GoDaddy's product ecosystem strategy doesn't create repeat business within their market.
GoDaddy's ecosystem products (right now) consist of:
These are all very compelling products for their target market: small business owners who want to DIY their website. Check one for Use-case column ✔️.
Unfortunately, the DIY website market don't typically keep coming back for more. I mean, ask any freelancer employed to fix or upgrade this style of website – the client often doesn't even remember which host they chose.
Compare with WP Engine – Local, Genesis, and Atomic blocks are all agency focused. Check one for Use-case ✔️. Also, agencies will keep coming back for more. Their products establish ongoing relationships. Check two ✔️✔️.
Problem #2: The market is way too crowded.
When you target non-technical people who want to DIY their own website, you're competing with the likes of:
WordPress.com
Squarespace
Shopify
Facebook
That's quite the contest in the top-left corner. GoDaddy are big enough to compete at this scale, but it's got to be tough going toe-to-toe with some of the most successful brands in the world.
Summary
There's a market for small business hosts – no doubt.
Compared to an agency focused strategy, finding a regular stream of repeat business, plus clear competitive differentiation – that's going to be really hard.
---
1. Of course, there's always a little overlap. Liquid Web would be happy to host your retail eCommerce store, and WP Engine provides enterprise grade solutions.