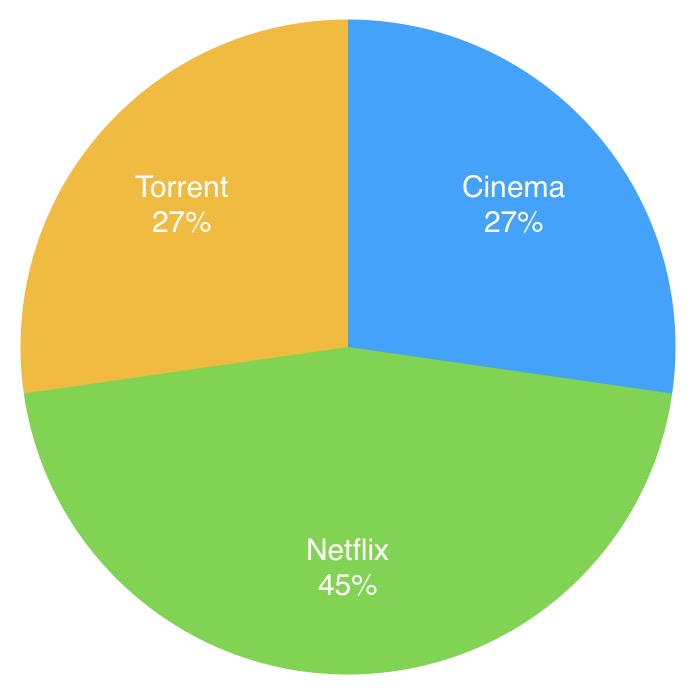 I saw twelve films in January.
Little Women was my favourite, followed closely by The School of Rock (a classic). The 2019 adaptation of The Addams Family ranked worst.
On average, I rated the films 3.7 of 5 stars (74%), making me a harsher critic than Rotten Tomatoes by 6%.
I watched 8 of the films at home, 5 on Netflix, and 3 were torrented. I saw 4 at the cinema.
| Date seen | Movie | Year | Director | Stars | Source |
| --- | --- | --- | --- | --- | --- |
| 2 January | The Gentlemen | 2020 | Guy Ritchie | ●●●◐○ | Cinema |
| 4 January | Jumanji: Welcome to the Jungle | 2017 | Jake Kasdan | ●●●◐○ | Torrent |
| 5 January | Jumanji: The Next Level | 2019 | Jake Kasdan | ●●●○○ | Cinema |
| 6 January | Uncut Gems | 2019 | Safdie Brothers | ●●●●○ | Netflix |
| 10 January | Little Women | 2019 | Greta Gerwig | ●●●●● | Cinema |
| 11 January | Marriage Story | 2019 | Noah Baumbach | ●●●●◐ | Netflix |
| 12 January | Start Wars: The Rise Of Skywalker | 2019 | J. J. Abrams | ●●●◐○ | Cinema |
| 16 January | The School of Rock | 2004 | Richard Linklater | ●●●●● | Torrent |
| 18 January | The Addams Family | 2019 | Greg Tiernan & Conrad Vernon | ●◐○○○ | Torrent |
| 22 January | The Irishman | 2019 | Martin Scorsese | ●●●●○ | Netflix |
| 27 January | Modest Heroes | 2018 | Yonebayashi, Momose, & Yamashita | ●●●○○ | Netflix |
| 29 January | The Two Popes | 2019 | Fernando Meirelles | ●●●●○ | Netflix |