How and Why I choose my web browser.
As an advocate for open source, the open web, and privacy, my choice of browser is a critical part of my work. Some thoughts:
Firefox
The only true open source browser. If I have a problem, I can file a bug on Bugzilla, and submit a patch to fix it. More importantly, if I'm ever curious about how the browser works under the hood, I can check the source.
For me, this makes Firefox an extremely persuasive option, and is the reason I try it out from time to time. Sadly, I've not yet been able to stick with it, and here's why:
Safari
I am in the Mac / iOS ecosystem, and although Safari may lack in some features, it makes up for it in others:
The only browser with native content blocking, which is much faster and safer than other ad blocker extensions. I use 1Blocker.

The only browser with native Picture-in-Picture mode for web videos.
iCloud + Handoff makes for easily the best Desktop to Mobile experience.
Best battery and resource efficiency (in my experience).
At least the browser engine (Webkit) is open source.
For these reasons, Safari has been my primary browser for many years now.
Chrome
Due to privacy concerns with Google's ad-based business model, I try not to use any Google services. When I do (YouTube), I make sure to block all cookies and browser storage for those domains (which I can do with 1Blocker).
Chrome's deep Google integration makes it a non-starter for me. Most of Chrome's benefit's can be summed up as "better integration with Google products", which doesn't help me at all.
I don't have a personal Google account, but I do need one for work. For those times, I have my default browser set to:
Choosy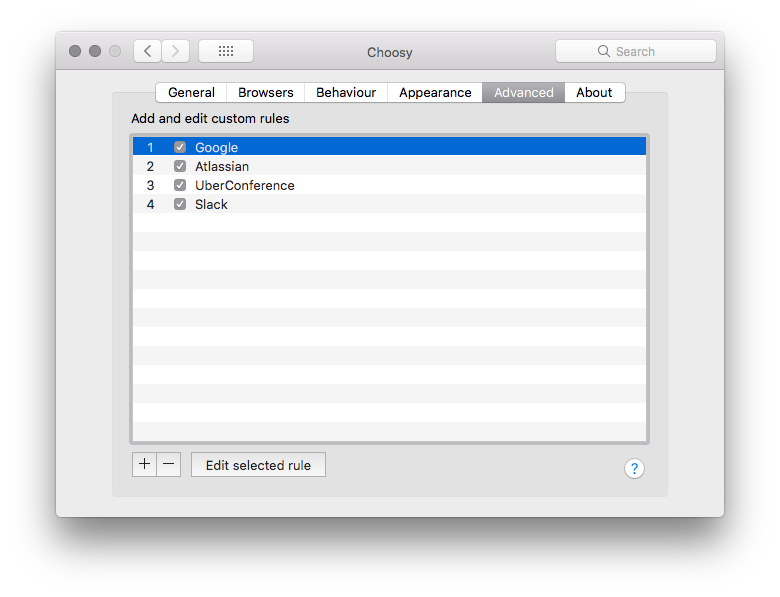 My system default browser is set to Choosy – a System Preferences extension that smartly handles which browser to open depending on the URL.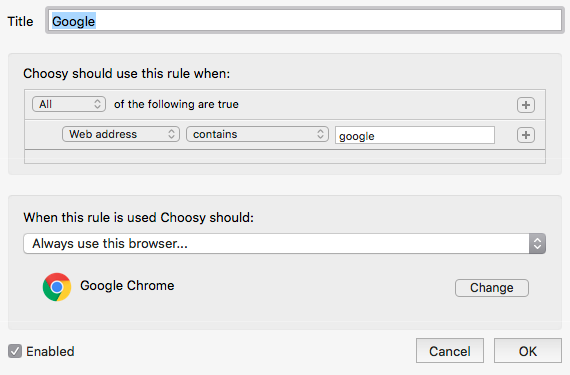 I use Choosy to set up rules for the services that either require my work's Google account, or simply don't work well in Safari. This way, when a colleague drops me a Google Doc link to review, it automatically opens Google Chrome, which is signed into my work Google account.
This way, the vast majority of my web browsing happens without being logged into Google. Since 1Blocker is also blocking Google's cookies and analytics, my browsing activity gets to remain private.
TL;DR

Although supporting an open source browser would be my ideal, my daily driver is Safari, due to its native integrations with Mac and iOS. I also use Choosy for the times when I need to be signed into my Google account (in which case I use Chrome, sparingly).
---
If you enjoyed this post, please consider adding this website to your bookmarks or favourites. Bookmarks are easy, free, private, and require no special software.