Here's a productivity tip I've rediscovered, straight from 2003: Browser Bookmarks.
Since I left social media, I found it hard to keep track of four things:
News (from sources I care about)
Blogs (written thoughtfully and regularly)
Photos (from family and friends)
Videos (information and entertainment from sources I trust)
My first inclination was to turn to RSS – the ancient XML format that kept everyone up to date in the 2000s. But RSS is dying, and I believe blogs should be read in the context of their site (design).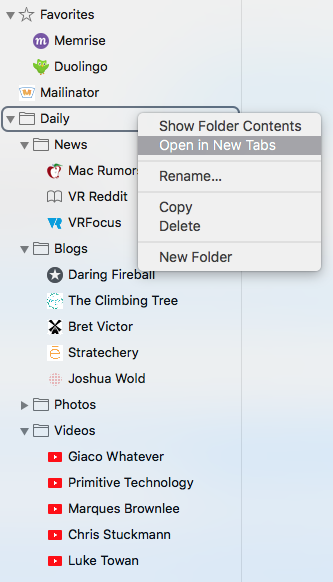 Instead, I started using the browser feature that's been with us since Netscape: ⭐️ Bookmarks! I created a folder for each of those four categories, and whenever the mood strikes me, I just right click and choose "Open in New Tabs".
News and Blogs are self explanatory, but it bears stating that you can still follow Instagrammers and YouTube channels without an account on their service.
You can view any public instagram account online by visiting https://instagram.com/[username].
For YouTube, I like to visit the channel page, then click on the Videos tab, and bookmark that. This way I'm always seeing a list of the latest videos from that channel. I also use 1Blocker to block cookies from Youtube (so that the videos I watch don't result in "Recommendations").
I hope you'll consider hitting Command+D (or Ctrl+D), and visiting this blog again soon.